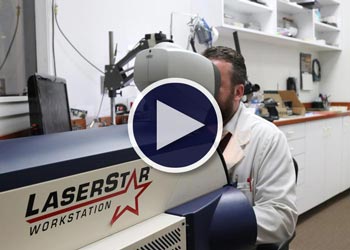 Paul Medawar Fine Jewelry is a leading provider of jewelry repair in Grand Rapids and is recognized as a premier jewelry repair store in the Midwest.
Whether jewelry repair is simple or complex, our expert craftsmen have the experience and ability to bring your piece back to life.
If you have any questions regarding our jewelry repair services, contact us today.
Grand Rapids Jewelry Repair
Our unmatched experience is joined with our in-house jewelry repair facility that features the latest technology, equipment, and tools to meet the highest standards in the industry.
Jewelry & Ring Sizing
If your jewelry doesn't fit correctly, we can resize gold and platinum pieces. Whether it's a new ring or a piece of jewelry you've had for years, we can help.
Crown Repair & Re-Tipping
After continuous wear, rings can begin to wear down and are exposed to structural weakness. Re-tipping enforces the ring's structure, while repairing the crown will ensure diamonds and gems won't fall out.
Refinishing & Polishing
Over the years, jewelry can become tarnished or scratched through normal use. We can polish your jewelry to make it shine beautifully again! We can also re-plate white gold jewelry with Rhodium to make it look brand new.
Chain & Bracelet Repair
Chains and bracelets can get tangled, twisted, or broken during wear or through improper storage. We can repair or replace broken pieces and clasps on your jewelry.
Jewelry Restoration Heirloom
Vintage jewelry repair is a particular area of expertise for our staff. Over time, jewelry pieces become worn and often require restoration or part replacement. Our jewelry repair experts have the tools to restore delicate pieces of vintage jewelry to make them sparkle like new.
To learn more about the jewelry repair services offered at Paul Medawar Fine Jewelry, call our jewelry repair store in Grand Rapids MI at (616) 363-4902.