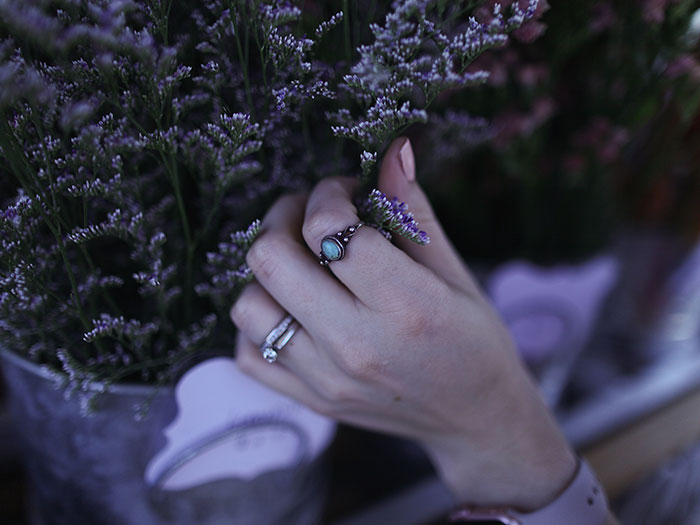 As a premier jewelry store, we're honored to help couples find the perfect engagement rings to symbolize their love. We're even more honored to help you on your journey to saying, "I do." Whether you're already engaged or are getting ready to pop the question, continue reading to learn how to this winter.
Travel with Care
With the holidays and spring break, winter can be a busy time to travel in the United States. If you plan on flying to your destination, either wear your
or keep it in your carry-on bag or purse. That way, you always have your ring with you. Once you arrive at the hotel, keep your ring in your room's safe whenever you're not wearing it.
Pickpockets and other thieves like to target tourists because they're unfamiliar with their surroundings. That's why it's important you stay mindful of your surroundings while you travel. If your engagement ring has a large diamond, you may want to consider turning the stone, so it's tucked underneath your hand. That way, you won't draw any unwanted attention while you're out and about.
If you haven't proposed yet, we recommend hiding the ring in a watch box while you travel, so you won't spoil the surprise for your partner. If you're flying, don't try to keep the diamond ring in your pocket where it will set off the metal detectors. Instead, tuck the ring in your carry-on bag and keep it near you.
Be Mindful While Taking Off Winter Gloves
Be careful while putting on and taking off winter gloves. Depending on the fabric, the inside of your glove could snag on your ring prongs. This could potentially loosen the diamond in your ring. If you remove your winter gloves with care, this shouldn't be a problem.
If the prongs are worn, call Paul Medawar Fine Jewelry as soon as possible. We'd be more than happy to re-tip prongs or tighten loose stones. We'll make sure that your engagement ring is ready to show off to friends and family. Call us today to learn more about our jewelry repair service.
Prepare for Cold Temperatures
Your fingers shrink a little in cold weather, which will affect the fit of your diamond engagement ring. This means that your ring may slip off more easily than in the summer. You may want to consider having us add a sizing bump if you're able to easily twist your ring around your finger.
Have Your Ring Professionally Cleaned
We recommend getting your engagement ring professionally cleaned and inspected at least every 6 months. If you plan on traveling, visit Paul Medawar Fine Jewelry so your diamond engagement ring looks as beautiful as the day your partner proposed. We'd also be more than happy to inspect and clean your ring after your travels if that would be more convenient for you.
Each engagement ring is precious, which is why we'll treat yours with the utmost of care and respect. Our specialized jewelry team will clean your engagement ring, restoring its brilliance and shine. They'll also inspect your ring for loose stones, bent prongs, and other signs of wear and tear. If we find any issues, we'll promptly repair your ring so it can return to its rightful place on your finger.
Call Paul Medawar Fine Jewelry
Have questions about your diamond engagement ring? We're here to help! We pride ourselves on offering the very best in customer service. This means that we take the time to answer each individual question you may have so you never feel rushed or pressured to buy something you're not absolutely 100% in love with. Our team treats each customer like a member of the family.
Our jewelry store in Grand Rapids, MI, is one of the best places to shop for a diamond engagement ring. To contact our specialized jewelry team, call Paul Medawar Fine Jewelry at (616) 363-4902. We hope to hear from you soon!